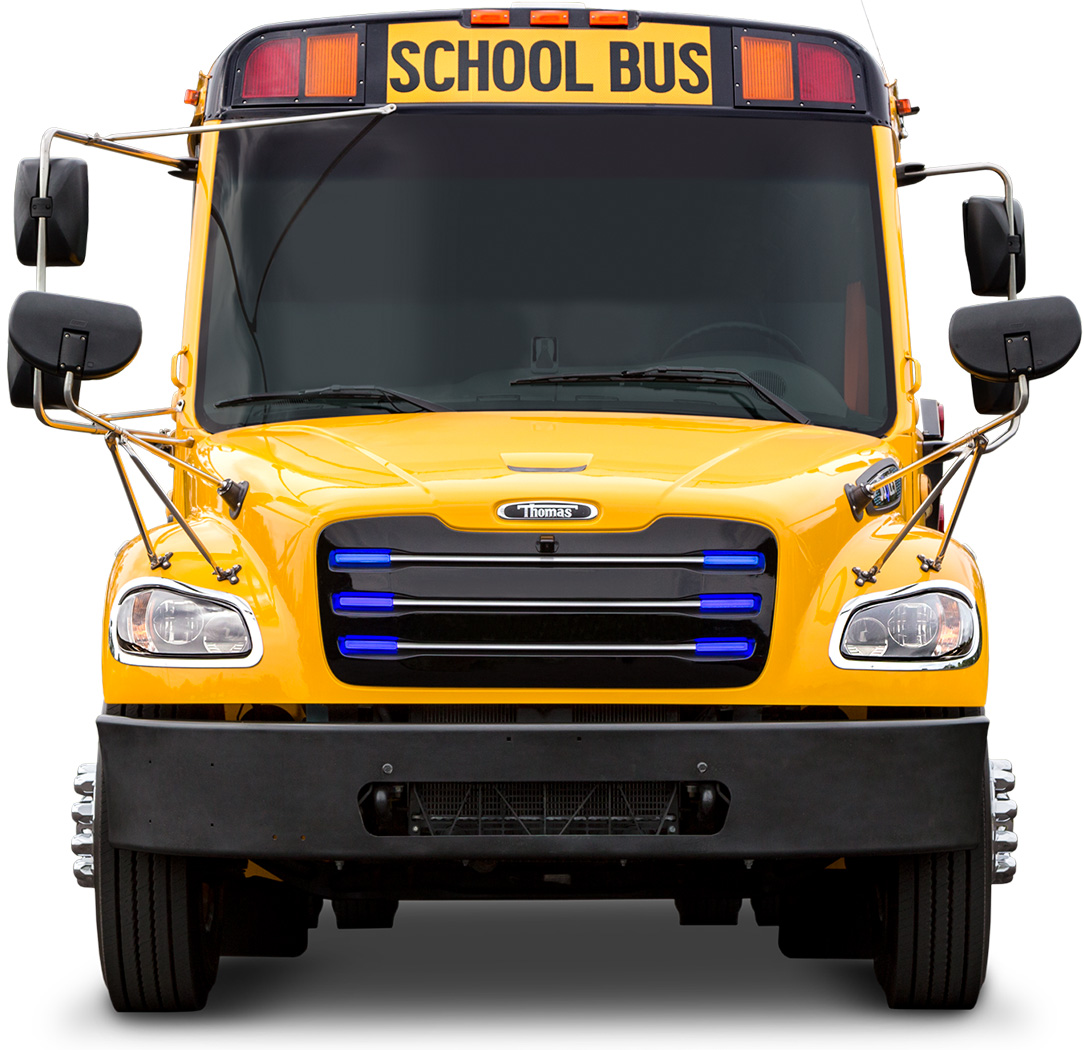 Saf-T-Liner® C2 Jouley™ Electric School Bus.
The future is just around the corner.
Thomas Built Buses has been moving the industry forward for more than 100 years. Now we're driving it in a whole new way with the Saf-T-Liner® C2 Jouley™ electric bus.
The C2 Jouley is emissions-free, noise pollution-free and fossil fuel-free, helping you save operating costs, and maybe even the planet.
Ideal for in-town routes, the Saf-T-Liner C2 Jouley electric bus is the latest chapter in our joint commitment with Daimler to providing proven, sustainable solutions today. And tomorrow.
Passenger Capacity
Up to 81
Charge Time
Nominal charge in 2-3 hours at a DC charging station*
Electric System
DC POWER
295 peak horsepower
0-60 mph acceleration in 49 seconds depending on final drive rear axle ratio
Standard SAE J1772 charging protocol
Over-the-air battery management software updates
Power-Save/Economy mode to extend range when required
Bilateral vehicle-to-grid capability
2-speed transmission
Liquid cooled battery pack
Battery Energy
Up to 220 kWh power
What makes the Saf-T-Liner C2 Jouley electric bus amazing?
Safety-first construction
Specialized battery packaging for increased safety
Zero emissions reduce exposure to harmful emissions
Quiet operations eliminate driver distractions and increase awareness of what's going on inside the bus
Full OEM vehicle performance
Top speed of 65 mph
Regenerative braking
No change to driver behavior required with automated drive cycles
Up to 220 kWh
Telematics system provides real-time fleet tracking, management and vehicle diagnostics
Electronic control software interfaces with critical vehicle systems
Includes fault detection and related management features
Optimize battery economy while maintaining performance
Electric buses pay for themselves over a lifetime
Reduced cost of fuel. Electricity has the lowest and most stable operating cost of any fuel
Less mechanical failure vs. traditional vehicles due to a simpler design
Lower vehicle maintenance costs, including less frequent brake replacement, no oil changes and other savings
No transmission and no shifting
Integrated exportable power enables the transfer of stored energy onboard the bus for use in opportunistic applications
Comprehensive vehicle monitoring via telematics
Predictive and real-time vehicle diagnostics for fleet managers
Sales and service team support
Less maintenance / service procedures required
*To achieve advertised charging time, chargers must have an output of at least 75 amps