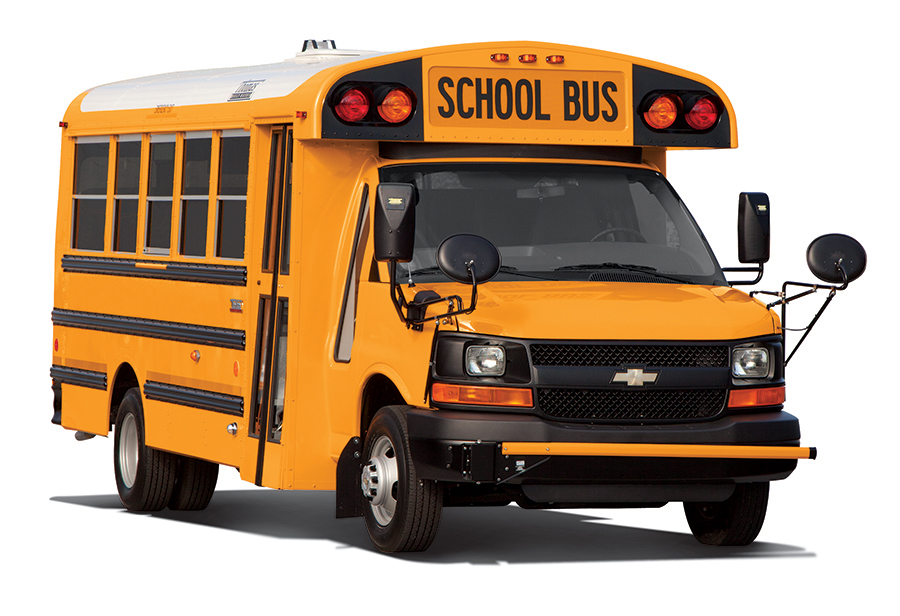 Minotour® School Bus.
Small yet mighty.
The Minotour® school bus is an efficient and maneuverable vehicle packed with all the safety features and rugged engineering of our bigger buses. And, unlike most passenger vans, the Minotour meets and exceeds all FMVSS and CMVSS for school buses. The Minotour school bus is designed with ample safety features to protect your precious cargo.
Passenger Capacity
Up to 30
Wheelbase
Ford® Chassis: 138″ or 158″
GM® Chassis: 139″ or 159″
GVWR
SRW 9,900 and 10,100 lbs.
DRW 11,500 – 14,500 lbs.
Engine
GM gas 4.3L V6, 6.0L V8
Ford gas 6.2L V8, 6.8L V10
Telematics
Zonar V4 advanced telematics system
73″ interior headroom
Interior dome lights
Driver-friendly ergonomic instrument panel
Thermal poly fiber insulation
At Thomas Built Buses, passenger safety is our number one priority. Every bus we manufacture meets or exceeds all FMVSS and CMVSS for school buses. We designed the Minotour with a number of innovative safety features, including:
Meets or exceeds FMVSS/CMVSS
Strength like a full-size school bus
Safety cage body construction with one-piece skirt-to-skirt roof bows
Two internal roof crash rails for rollover protection
Four-wheel anti-lock brakes
42″ x 47″ glass-paneled rear emergency door
Wheelchair lift with 44″ wide door
Remote control/heated mirrors
Driver's step
Dash and rear A/C
Various seat options available: bench seat without belts, with lap belts, with three-point belts; latch; integrated child seat or coach-style seating
Electronics mounted in interior service compartment with light
Main circuit breaker located inside entrance door as master power to body
Access to lights from inside the bus
Driver control panel placed overhead
Manually operated front entrance door
306 square-inch Saf-T-Vue window