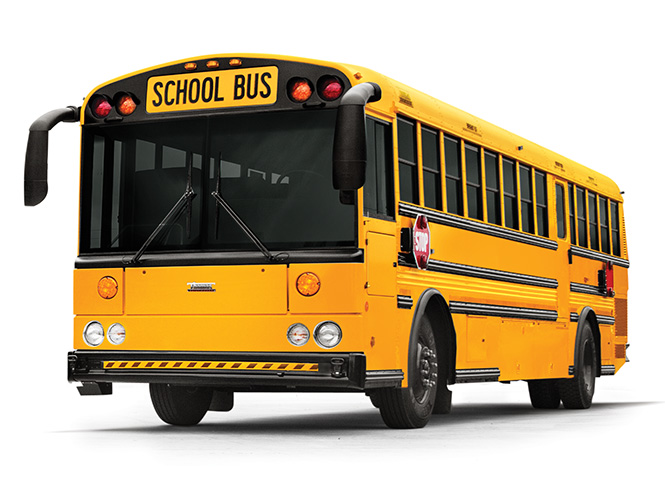 Saf-T-Liner® HDX.
Ideal weight distribution for the long haul.
School bus routes come in all shapes and sizes: short and hilly, long and bumpy or all of the above. The Saf-T-Liner® HDX from Thomas Built Buses is built to handle them all. This model is designed to keep drivers comfortable, with features like standard tilt and telescoping steering wheel and optional adjustable pedals. It offers a pleasant ride for up to 90 passengers with air conditioning, coach-style seating and heavy-duty shock absorbers. And because safety is important to everyone, each HDX school bus meets or exceeds FMVSS and CMVSS. Finally, to help you keep your HDX buses safe, efficient and comfortable, Thomas Built developed one of the most extensive dealer networks in the industry.
Passenger capacity
Up to 90
Wheelbase
181″, 209″, 238″, 267″, 277″
Engine
Detroit™ DD8™ 260-300 hp
Cummins® B6.7 220-300 hp
Cummins® L9 260-300 hp
Cummins® L9N 250-280 hp
Telematics
Zonar® V3™ advanced telematics system
Detroit™ Connect™ available on DD8 engine
(available late 2018)
Ergonomic driver's dash and switch panel
Easy-to-read offset gauge cluster
Tilt and telescoping steering wheel
Suspended brake and accelerator pedals
Foot rest
Up to 50-degree wheel cut
Sound isolator over engine
78″ headroom
Decade after decade, Thomas Built Buses has followed one simple philosophy: design and build the kind of school bus we'd want our own children to ride in. It's a simple idea and it works. Passenger safety is our number one priority and every bus we manufacture meets or exceeds all FMVSS and CMVSS for school buses.
Meets or exceeds FMVSS/CMVSS
Roof bows extend to bottom of side panels
Double rear bumper with exterior contoured steel bumper
Double-bolted body mounting clips
Fuel tank mounted between frame rails
Wheelchair lift
Adjustable pedals
Air suspension driver's seat
Air ride suspension
Heated driver's seat
Front and rear bulkhead air conditioning
AM/FM radio, CD player and PA system
Remote controlled heated mirrors
Reading lights
Variety of seating options:

Bench seat without belts, with lap belts, with 3-point belts
Integrated child seat
Coach-style seat

Child reminder system
Interior LED lighting packages
Acoustical ceiling
Underbody pass-through storage area
Overhead book racks
White roof
Tinted windows
Staggered passenger seating
Power and performance? Yes and yes.
The Detroit DD8 is a 7.7L in-line 6-cylinder medium-range engine that boasts a horsepower range of 260-300HP and a torque range of 660–860 foot-pounds for the Saf-T-Liner® HDX. Unlike on-highway engines repackaged for medium-duty applications, the DD8 engine is a clean-sheet design, built from the ground up specifically for the medium-duty cycle to deliver the best in efficiency, durability and clean performance. The DD8 engine also features leading-edge technology, including variable exhaust cam phasing which reduces driver interactions with regen. The DD8 is available with Detroit™ Connect Virtual Technician℠, a subscription-based remote diagnostic service (free for the first five years) that instantly transmits data to the Detroit Customer Support Center, allowing you to make informed service decisions within minutes of an issue.
Lower total cost of ownership. High performance. Demand it all—and get it—with the DD8 engine.
Expect:
The longest service intervals in the industry, with up to 45,000-mile* oil and fuel filter change intervals
Maximum uptime with unsurpassed efficiency and exceptional endurance
Power, performance and best-in-class fuel economy and reliability
Easier serviceability with top-load oil and fuel filters
Standard warranty covers the engine and aftertreatment for five years/100,000 miles/160,000 km (whichever comes first), including 100% parts and labor
Variable exhaust cam phasing which allows additional heat to the exhaust stream to promote efficient operation of the aftertreatment system in low speed and stop-and-go operation. This reduces the need for active regen
Adherence to emissions regulations through 2020
*Or 12 months or 1,500 hours, whichever comes first
Learn more about how Thomas Built Buses and Detroit Diesel Corporation are partners in performance.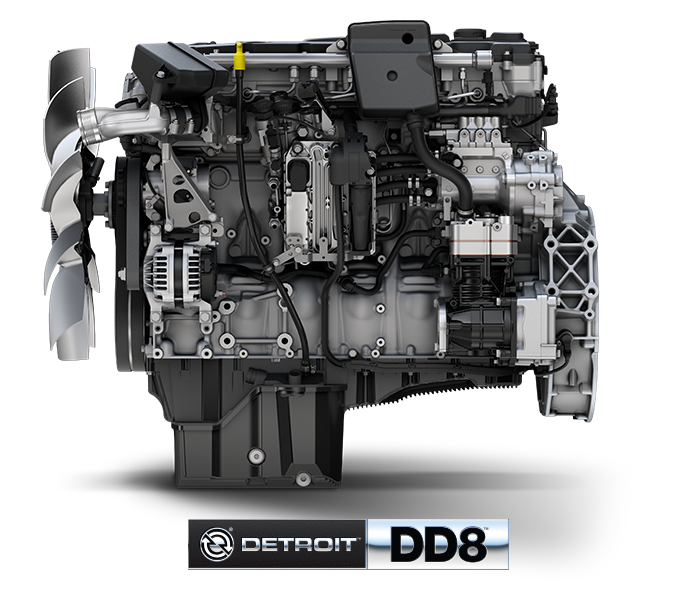 Exterior electrical access door
Streamlined electrical center for easy identification and access
Accessory module for customer aftermarket component hookup
Fuse relay centers provide circuit protection and easy diagnostics
Front access panel
"S" shape drop-frame design at engine location
Engine compartment accessible via three doors plus access panel
DD8 engine available with Detroit™ Connect Virtual Technician℠ remote diagnostic service to help you maximize uptime
Easy access to fluids
In-dash fault code display
Lights equipped with plug-in connectors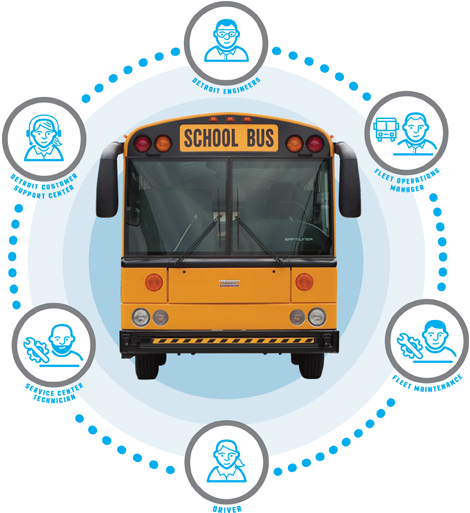 Large two-piece curved bonded windshield
Exterior mirror cluster with flat and convex rearview mirrors and front crossover mirrors